トップページ > 診療科・部門 > センター > 国際リンパ浮腫センター > NCGM "Plastic Surgery" Advanced Clinical Training Program "Lymphatic Supermicrosurgery"
NCGM "Plastic Surgery" Advanced Clinical Training Program "Lymphatic Supermicrosurgery"
Program Director: Takumi Yamamoto
Department: Plastic and Reconstructive Surgery
Aim
Supermicrosurgery is the most sophisticated microsurgical technique, which allows fine dissection and anastomosis of blood vessel, lymphatic vessel, and nerve with diameter of 0.5 mm or smaller. This program aims for trainees to learn supermicrosurgical techniques and its clinical applications in lymphedema (LE) surgery under supervision of Takumi Yamamoto (see below).
Advanced clinical training (supermicrosurgery training under supervision of the program director, Takumi Yamamoto)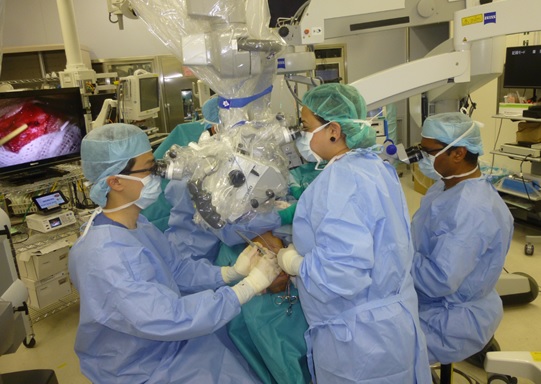 Supermicrosurgery (anastomosis of vessels with external diameter of 0.3 mm)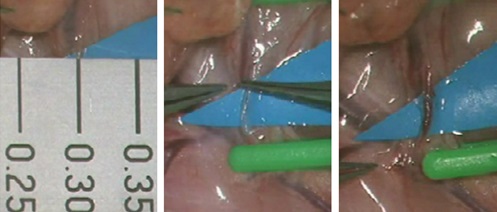 Requirements for Trainees
Trainees must have 3 years or longer clinical experience as a physician and be able to speak English. Since supermicrosurgery is a more sophisticated technique than microsurgery, it is strongly recommended for trainees to have mastered basic skills of conventional microsurgery before getting into this program. Japan work VISA (trainee) is required to apply this program. Regarding more information, please contact to Department of Medical Education (info-mededu(at)hosp.ncgm.go.jp, change "(at)" to "@").
Training Program
In this program, trainees learn supermicrosurgery by observing outpatient clinic and operations, and by doing operations under the program director's supervision. It largely depends on a trainee's skill how long it takes for a trainee to be allowed to do operations by the program director; only when a trainee is considered with supermicrosurgical skills enough to safely operate supermicrosurgery by the director, she/he is allowed to do supermicrosurgery under the director's supervision. There is no fixed duration for this program, but 3 months or longer duration is recommended for trainees to expect operatorship of supermicrosurgery.
Although LE surgery is a key to manage the challenging disease, pre- and post-operative care are also important to provide an optimal treatment for LE patients. Outpatient clinic observation is scheduled in this program; since very few Japanese can speak English, it is difficult for trainees who cannot speak Japanese to communicate with Japanese patients.
Weekly Schedule
Mon.
Tue.
Wed.
Thu.
Fri.
Sat./Sun.
AM
Outpatient
(LE)
OR
OR
Outpatient
(non-LE)
OR
-
PM
Day surgery
OR
OR
Day surgery
OR
-
OR, operation room. LE, lymphedema cases.
Operative Procedures Trainees Are Expected to Learn
The most fundamental surgical treatment for LE is supermicrosurgical lymphaticovenular anastomosis (LVA), because LVA is the least invasive lymphatic surgery and can be applicable for all stages of LE refractory to conservative treatments (although LVA is less effective for progressed cases than early cases). In LVA, collecting lymphatic vessels are anastomosed to nearby recipient veins in an intima-to-intima coaptation manner using supermicrosurgical technique; both lymphatic vessels and recipient veins are around 0.5 mm. Strategically, indication of LVA and where to perform LVA are the most important. Based on various lymph imaging studies, especially ICG lymphography, indication of LVA and skin incision design are determined. Technically, finding translucent lymphatic vessels in yellow adipose tissue and how to anastomose them (end-to-end or side-to-end, etc) are the most important, Based on vessels' characteristics, optimal anastomotic configurations are selected. Another point that would be difficult for trainees is moving field. Since LVA is performed under local infiltration anesthesia, a patient cannot keep completely still during surgery, which leads to moving surgical field. This would make a surgeon feel uncomfortable even with enough experience of perforator-to-perforator anastomosis under general anesthesia.
For advanced LE with severe lymphosclerosis, LVA is hardly effective and further surgical interventions are required. Vascularized lymph node transfer (LNT) is a choice of treatment for progressed LE refractory to LVA. Conventional LNT has a considerable risk of donor site LE. To minimize donor site morbidities, ICG lymphography navigation and supermicrosurgical dissection techniques are applied into LNT surgery. ICG lymphography navigation is essential to prevent lymphatic vessel injury during lymphatic surgeries. Supermicrosurgical dissection allows to harvest a lymph node flap based on a "perforator" nutrient vessel without sacrificing dominant donor site lymph nodes. Ture perforator lymph node flaps are transferred with perforator-to-perforator anastomosis using supermicrosurgical techniques.
ICG lymphography findings with progression of LE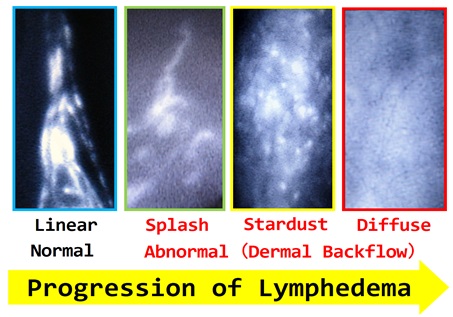 Therapeutic strategy based on ICG lymphography stage (DB stage)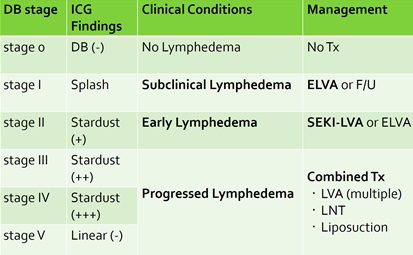 Important Notice
Application process for NCGM advanced clinical training takes 3 months; please apply for this program at the latest 3 months before the first day an applicant wants to train. Basically, we are not able to support your life during your stay in Japan. Trainees have to find residence in Japan, arrange by themselves whatever they need (to do) during the period, including procedures at public institutions. Some cost is required for applying ACT. Regarding more information, please contact to Department of Medical Education (info-mededu(at)hosp.ncgm.go.jp, change "(at)" to "@").
Program Director
Takumi Yamamoto, MD, PhD
Department of Plastic and Reconstructive Surgery, Chief
email: tyamamoto-tky(at)umin.ac.jp (change "(at)" to "@")
Publications (first author)
Yamamoto T, et al.
The earliest finding of indocyanine green (ICG) lymphography in asymptomatic limbs of lower extremity lymphedema patients secondary to cancer treatment: the modified dermal backflow (DB) stage and concept of subclinical lymphedema.
Plast Reconstr Surg. 2011;128(4):314e-21e.
Yamamoto T, et al.
Upper Extremity Lymphedema (UEL) Index: A Simple Method for Severity Evaluation of Upper Extremity Lymphedema.
Ann Plast Surg 2011 Jul 5 [Epub ahead of print]
Yamamoto T, et al.
Indocyanine green (ICG)-enhanced lymphography for upper extremity lymphedema: a novel severity staging system using dermal backflow (DB) patterns.
Plast Reconstr Surg 2011 Jun 15. [Epub ahead of print]
Yamamoto T, et al.
Indocyanine green (ICG)-enhanced lymphography for evaluation of facial lymphoedema.
J Plast Reconstr Aesthet Surg. 2011 Jun 15 [Epub ahead of print]
Yamamoto T, et al.
Lambda-shaped anastomosis with intravascular stenting method for safe and effective lymphaticovenular anastomosis.
Plast Reconstr Surg 2011;127(5):1987-92.
Yamamoto T, et al.
Characteristic indocyanine green lymphography findings in lower extremity lymphedema: the generation of a novel lymphedema severity staging system using dermal backflow patterns.
Plast Reconstr Surg 2011;127(5):1979-86.
Yamamoto T, et al.
Lower extremity lymphedema index: a simple method for severity evaluation of lower extremity lymphedema.
Ann Plast Surg 2011 Mar 14 [Epub ahead of print].
Yamamoto T, et al.
Simultaneous multi-site lymphaticovenular anastomoses for primary lower extremity and genital lymphoedema complicated with severe lymphorrhea.
J Prast Reconstr Aesthet Surg 2011;64(6):812-5. Epub 2010 Nov 17.
Yamamoto T, et al.
Handheld thermography for flap monitoring.
J Plast Reconstr Aesthet Surg. 2012 Aug 4 [Epub ahead of print].
Yamamoto T, et al.
LEC score: A judgment tool for indication of indocyanine green lymphography.
Ann Plast Surg. 2013;70(2):227-30.
Yamamoto T, et al.
Split intravascular stents for side-to-end lymphaticovenular anastomosis.
Ann Plast Surg 2013;71(5):538-40..
Yamamoto T, et al.
Indocyanine green velocity: Lymph transportation capacity deterioration with progression of lymphedema.
Ann Plast Surg 2013;71(5):591-4.
Yamamoto T, et al.
Minimally invasive lymphatic supermicrosurgery (MILS): indocyanine green-guided simultaneous multi-site lymphaticovenular anastomoses via millimeter skin incisions.
Ann Plast Surg. 2012 Dec 13 [Epub ahead of print].
Yamamoto T, et al.
A modified side-to-end lymphaticovenular anastomosis.
Microsurgery. 2013;33(2):130-3.
Yamamoto T, et al.
Sequential anastomosis for lymphatic supermicrosurgery: multiple lymphaticovenular anastomoses on one venule.
Ann Plast Surg. 2012 Dec 13 [Epub ahead of print].
Yamamoto T, et al.
Handy thermography for bedside evaluation of pressure ulcer.
J Plast Reconstr Aesthet Surg. 2013 Mar 4 [Epub ahead of print].
Yamamoto T, et al.
Side-to-end lymphaticovenular anastomosis through temporary lymphatic expansion.
PLoS ONE 2013;8(3):e59523. Epub 2013 Mar 25.
Yamamoto T, et al.
Indocyanine green lymphography for evaluation of genital lymphedema in secondary lower extremity lymphedema patients.
J Vasc Surg Venous Lymphat Dis 2013 July 18 [Epub ahead of print].
Yamamoto T, et al.
Near-infrared illumination system-integrated microscope for supermicrosurgical lymphaticovenular anastomosis.
Microsurgery 2013 Jul 9 [Epub ahead of print].
Yamamoto T, et al.
Subclinical lymphedema: understanding is the clue to decision making.
Plast Reconstr Surg 2013;132(3):472e3e..
Yamamoto T, et al.
Free anterolateral thigh flap with vascularized lateral femoral cutaneous nerve for treatment of neuroma-in-continuity and recurrent carpal tunnel syndrome after carpal tunnel release.
Microsurgery 2013 Jul 11 [Epub ahead of print].
Yamamoto T, et al.
Modified lambda-shaped lymphaticovenular anastomosis with supermicrosurgical lymphoplasty technique for a cancer-related lymphedema patient.
Microsurgery 2013 Sep 13 [Epub ahead of print].
Yamamoto T, et al.
Colourful indocyanine green lymphography.
J Plast Reconstr Aesthet Surg. 2013 Oct 1 [Epub ahead of print].
Yamamoto T, et al.
Neo-valvuloplasty for lympahtic supermicrosurgery.
J Plast Reconstr Aesthet Surg 2014;67(4):587-8.
Yamamoto T, et al.
Dynamic indocyanine green lymphography for breast cancer-related arm lymphedema.
Ann Plast Surg 2014;73(6):706-9.
Yamamoto T, et al.
Ladder-shaped lymphaticovenular anastomosis using multiple side-to-side lymphatic anastomoses for a leg lymphedema patient.
Microsurgery 2014;34(5):404-8.
Yamamoto T, et al.
Ladder-shaped lymphaticovenular anastomosis using multiple side-to-side lymphatic anastomoses for a leg lymphedema patient.
Microsurgery 2014;34(5):404-8.
Yamamoto T, et al.
Upward retraction for lymphaticovenular anastomosis in the deep fat layer.
Microsurgery 2014;34(7):586-7.
Yamamoto T, et al.
Use of non-enhanced angiography to assist the second toetip flap transfer for reconstruction of the fingertip defect.
Microsurgery 2014;34(6):481-3.
Yamamoto T, et al.
Technical simplification of the supermicrosurgical side-to-end lymphaticovenular anastomosis using the parachute technique.
Microsurgery 2015 Feb;35(2):129-34.
Yamamoto T, et al.
Splash, stardust, or diffuse pattern: differentiation of dermal backflow pattern is important in indocyanine green lymphography.
Plast Reconstr Surg 2014;133(6):e887-8.
Yamamoto T, et al.
Incisionless osteotomy for contouring the skull: pinhole osteo-chipping with irrigation for the aesthetic treatment of a benign frontal osteoma.
J Plast Reconstr Aesthet Surg 2014;67(11):e270-2.
Yamamoto T, et al.
Navigation lymphatic supermicrosurgery for iatrogenic lymphorrhea: supermicrosurgical lymphaticolymphatic anastomosis and lymphaticovenular anastomosis under indocyanine green lymphography navigation.
J Plast Reconstr Aesthet Surg 2014;67(11):1573-9.
Yamamoto T, et al.
Triple supermicrosurgical side-to-side lymphaticolymphatic anastomoses on a lymphatic vessel end-to-end anastomosed to a vein.
Microsurgery 2014 Jul 15 [epub ahead of print]
Yamamoto T, et al.
Mono-canalization of adhered lymphatic vessels for lymphatic supermicrosurgery.
J Plast Reconstr Aesthet Surg 2014;67(11):e291-2. 2014 Jul 31 [epub ahead of print]
Yamamoto T, et al.
Lymph preserving lipectomy under indocyanine green lymphography navigation.
J Plast Reconstr Aesthet Surg 2015;68(1):136-7.
Yamamoto T, et al.
Supermicrosugical anastomosis of superficial lymphatic vessel to deep lymphatic vessel for a patient with cellulitis-induced chronic localized leg lymphedema.
Microsurgery 2015;35(1):68-71. 2014 Sep 8 [epub ahead of print]
Yamamoto T, et al.
Establishment of supermicrosurgical lymphaticovenular anastomosis model in rat.
Microsurgery 2014 Oct 3 [Epub ahead of print]
Yamamoto T, et al. Trans-flap anchoring suture technique for tension-free skin flap interposition. Microsurgery 2014 Oct 3 [Epub ahead of print]
Yamamoto T, et al.
Multiple-In-One concept for lymphatic supermicrosurgery.
Microsurgery 2014 Oct 28 [epub ahead of print]
Yamamoto T, et al.
Transversely-inset great toe hemi-pulp flap transfer for the reconstruction of a thumb-tip defect.
Microsurgery 2014 Oct 31 [Epub ahead of print]
Yamamoto T, et al.
Efferent lymphatic vessel anastomosis (ELVA): supermicrosurgical efferent lymphatic vessel-to-venous anastomosis for the prophylactic treatment of subclinical lymphedema.
Ann Plast Surg 2014 Nov 1 [Epub ahead of print]
Yamamoto T, et al.
Sensate superficial inferior epigastric artery flap innervated by iliohypogastric nerve for reconstruction of a finger soft tissue defect.
Microsurgery 2014 Nov 28 [Epub ahead of print]
Yamamoto T, et al.
Indocyanine green lymphography findings in primary leg lymphedema.
Eur J Vasc Endovasc Surg. 2015;49:95-102. 2014 Dec 3 [Epub ahead of print]
Yamamoto T, et al.
Supermicrosurgical deep lymphatic vessel-to-venous anastomosis for a breast cancer-related arm lymphedema with severe sclerosis of superficial lymphatic vessels.
Microsurgery 2015 Jan 17 [Epub ahead of print]
Yamamoto T, et al.
Relationship between lymphedema and arteriosclerosis: higher cardio-ankle vascular index in lymphedematous limbs.
Ann Plast Surg 2015 Feb 18 [Epub ahead of print]
Yamamoto T, et al.
Hands-free vein visualizer for selection of recipient vein with an intact valve in lymphatic supermicrosurgery.
J Plast Reconstr Aesthet Surg 2015 Feb 14 [Epub ahead of print]
Yamamoto T, et al.
 A method of continuous indirect aspiration for field clearance in lymphatic supermicrosurgery.
Microsurgery 2015 May 19 [Epub ahead of print]
Yamamoto T, et al.
Hands-free vein visualizer for preoperative assessment of recipient veins.
Microsurgery 2015 Jul 7 [Epub ahead of print]
Yamamoto T, et al.
Parallel pocket incision: less invasive surgical intervention for the treatment of intractable pressure ulcer with wound edge undermining.
J Plast Reconstr Aesthet Surg 2015 Jul 17 [Epub ahead of print]
Yamamoto T, et al.
Lymphatic vessel grafting for prevention of venous reflux into a sclerotic lymphatic vessel in supermicrosurgical lymphaticovenular anastomosis.
J Plast Reconstr Aesthet Surg 2016 Jan 7 [epub ahead of print]
Yamamoto T, et al.
Microsurgical venous-branch-plasty for approximating diameter and vessels' position in lymphatic supermicrosurgery.
J Plast Reconstr Aesthet Surg. 2016 Feb 17 [epub ahead of print]
Yamamoto T, et al.
Free prepuce perforator flap: Ultra-thin superficial artery perforator flap for a dorsal finger defect.
Microsurgery 2016 May 21 [epub ahead of print]
Yamamoto T, et al.
Versatility of indocyanine green lymphography navigation for lymphatic surgeries.
J Plast Reconstr Aesthet Surg. 2016 Jun 3 [epub ahead of print]
Yamamoto T, et al.
Genital lymphedema score: genital lymphedema severity scoring system based on subjective symptoms.
Ann Plast Surg 2016;77(1):119-21
Yamamoto T, et al.
Quadruple-component superficial circumflex iliac artery perforator (SCIP) flap: a chimeric SCIP flap for complex ankle reconstruction of an exposed artificial joint after total ankle arthroplasty.
J Plast Reconstr Aesthet Surg. 2016 Jun 23 [epub ahead of print]
Yamamoto T, et al.
Complete lymph flow reconstruction: a free vascularized lymph node true perforator flap transfer with efferent lymphaticolymphatic anastomosis.
J Plast Reconstr Aesthet Surg 2016 Jul 2 [epub ahead of print]
Yamamoto T, et al.
Fusion lymphoplasty for diameter approximation in lymphatic supermicrosurgery using two lymphatic vessels for a larger recipient vein.
J Plast Reconstr Aesthet Surg 2016 Jul 9 [epub ahead of print]
Yamamoto T, et al. Time to re-consider a gold standard of lymph flow imaging: importance of reliability to detect abnormal lymphodynamics in lymphedema screening after cancer treatments. Plast Reconstr Surg 2016 Dec 9 [epub head of print]
Yamamoto T, et al.
Application of a multi-directional transformable retractor for lymphatic supermicrosurgery using SEKI method.
Microsurgery 2016 Dec 23 [epub ahead of print]
Yamamoto T, eg al.
Indocyanine green lymphography for lymphedema screening following breast cancer treatment.
Plast Reconstr Surg 2017 Feb 14 [Epub ahead of print]
Yamamoto T, Yamamoto N, Ishiura R.
Thirty-micron needle for precise supermicrosurgery.
Microsurgery 2017 Feb 16 [epub ahead of print]
Yamamoto T, Yamamoto N, Ishiura R.
Evaluation of the upper limb lymphatic system: a prospective lymphoscintigraphic study in melanoma patients and healthy controls.
Plast Reconstr Surg 2017;139(4):1028e-9e.
Yamamoto T, Yamamoto N, Yoshimatsu H, Narushima M, Koshima I.
Factors associated with lower extremity dysmorphia caused by lower extremity lymphedema.
Eur J Vasc Endovasc Surg. 2017 Apr 6 [epub head of print]
Yamamoto T, Yamamoto N, Ishiura R.
Pocketable ultrasonography for bedside flap monitoring.
Microsurgery 2017 Apr 22 [epub ahead of print]
Yamamoto T, Yamamoto N, Yoshimatsu H.
Localized arm volume index: a new method for body type-corrected evaluation of localized arm lymphedematous volume change.
Ann Plast Surg 2017 May 31 [epub ahead of print]
Yamamoto T, Yamamoto N, Yoshimatsu H, Narushima M, Koshima I.
Factors associated with lymphosclerosis: an analysis on 962 lymphatic vessels.
Plast Reconstr Surg 2017 June 12 [epub ahead of print]
Yamamoto T, et al.
Lymphatic vessel diameter in female pelvic cancer-related lower extremity lymphedematous limbs.
J Surg Oncol 2018 Jan 22 [epub ahead of print]
Yamamoto T, et al.
Possible optimal donor site for multiple lymph node transfers.
J Am Coll Surg 2018 Feb;226(2):202-3.
Yamamoto T, et al.
Lymph flow restoration after tissue replantation and transfer: importance of lymph axiality and possiblity of lymph flow reconstruction using free flap transfer without lymph node or supermicrosurgical lymphatic anastomosis.
Plast Reconstr Surg 2018 Jun 22 [epub ahead of print]
Yamamoto T, et al.
Lymphedema quality of life score (LeQOLiS): A simple method for evaluation of subjective symptoms in extremity lymphedema patients.
Plast Reconstr Surg. 2018 Aug 14 [epub ahead of print]
Yamamoto T, et al.
Optimal sites for supermicrosurgical lymphaticovenular anastomosis: an analysis of lymphatic vessel detection rates on 840 surgical fields in lower extremity lymphedema.
Plast Reconstr Surg. 2018 Sep 4 [epub ahead of print]
Yamamoto T, et al.
Targeting reflux-free veins with a vein visualizer to identify the ideal recipient vein preoperatively for optimal lymphaticovenous anastomosis in treating lymphedema.
Plast Reconstr Surg. 2018 Nov;142(5):804e-806e.
Yamamoto T.
Onco-Reconstructive Supermicrosurgery.
Eur J Surg Oncol. 2019 Jan 9 [epub ahead of print]
Yamamoto T.
Impact of lower extremity dysmorphia on lymphedema patients' quality of life.
Plast Reconstr Surg. 2019 Feb 1 [epub ahead of print]