トップページ > 診療科・部門 > センター > 国際リンパ浮腫センター > Centro de Linfedema
Centro de Linfedema

Tratamientos Supermicroquirúrgicos para el Linfedema
LINFEDEMA
El linfedema es una enfermedad edematosa causada por la circulación anormal de la linfa, y se clasificada en linfedema primario y linfedema secundario. El linfedema secundario es causado por obstrucción del flujo linfático resultante de tratamientos contra el cáncer (disección ganglionar y/o radioterapia), trauma, infección, etc. En el linfedema primario, el edema se desarrolla de manera progresiva desconociendo el mecanismo causal. En áreas tropicales, el linfedema secundario a infección por filaria es el más común, mientras que los tratamientos contra el cáncer son la principal causa de linfedema en los países desarrollados.
Después del tratamiento del cáncer que incluyen linfadenectomía y/o radioterapia, hay una obstrucción en el flujo linfático de región tratada; ya sea en la axila después del tratamiento de cáncer de mama y en la pelvis después de tratamientos del cáncer uterino, de de ovario, etc. La obstrucción del flujo linfático provoca congestión de la linfa y dilatación de vasos linfáticos distales a este sitio. En un comienzo, el linfedema se manifiesta como un "edema blando", y luego como un "edema firme" a medida que progresa en el tiempo. Dado que la linfa contiene células del sistema inmunitario, la congestión de la linfa conduce a la deficiencia inmunológica local, causando celulitis a repetición. Un linfedema de larga duración con episodios inflamatorios frecuentes, puede evolucionar a elefantiasis y complicarse con tumores malignos como el angiosarcoma (Síndrome de Stewart-Treves).
Para mejorar la función linfática anormal es esencial tratar la causa mediante la intervención temprana; de lo contrario el linfedema progresa en el tiempo sin ninguna mejoría.
Diagnóstico del Linfedema
El diagnóstico de linfedema comienza excluyendo otras causas de edema como enfermedades que afectan el corazón, riñón, hígado, enfermedades endocrinas, malignas y patología venosas (descartadas por el internistas previo a la consulta en el Centro de Linfedema). A continuación, se realizan estudios de imágenes del sistema linfático para evaluar su función; cuando se evidencia una circulación anormal de la linfa, se diagnostica linfedema.
Los estudios imagenológicos incluyen linfocintigrafía (SPECT-CT), linfografía por resonancia magnética (MRL) y linfografía con verde de indocianina (ICG). Basándose en las características del linfedema, varios estudios se combinan para evaluar la enfermedad de manera exhaustiva. Entre ellos, la linfografía ICG es especialmente útil para la evaluación y el manejo del linfedema. La linfografía ICG permite una estadificación fisiopatológica útil para la predicción de la progresión del linfedema y para considerar la indicación quirúrgica mediante la supermicrocirugía linfática.
Tratamientos para el Linfedema
Las prendas de compresión y el vendaje son pilares de los tratamientos de linfedema. Una vez que el linfedema se desarrolla, progresa el tiempo sin mejoría independientemente de los síntoma; discontinuar la terapia compresiva da como resultado el deterioro progresivo del linfedema. Dado que la compresión es sólo un tratamiento sintomático (no curativo), es necesaria su utilización de por vida en los pacientes con linfedema. El drenaje manual linfático (DML), es una terapia de masaje especializada para el tratamiento del linfedema realizado por un terapeuta entrenado para el tratamiento del linfedema. DML es útil para reducir agresivamente el volumen de la extremidad linfedematosa cuando se realiza de manera continua (generalmente hospitalizado); DML es poco eficaz cuando se realiza bajo un programa ambulatorio. No se recomienda otro "masaje linfático" que no sea DML, ya que los linfáticos pueden estar deteriorados y el linfedema empeorar.
Los tratamientos quirúrgicos se realizan para linfedema progresivo refractario al tratamiento conservador. En el pasado, se realizaron cirugías reductoras y "anastomosis linfático-venosas clásicas" (insertando un vaso linfático en una vena), pero se han ido abandonando debido a lo invasivo y a resultados poco satisfactorios. Con el avance de las técnicas e instrumentos quirúrgicos, se ha desarrollado la "supermicrocirugía" (sofisticada técnica microquirúrgica que permite anastomosis de vasos de 0,5 mm de diámetro o menos). Mediante la utilización de habilidades supermicroquirúrgicas, es posible realizar "anastomosis verdaderas de vasos linfáticos" (coaptación íntima-intimal), lo que conduce al desarrollo de la "anastomosis linfático-venulares" (ALV) supermicroquirúrgica. Actualmente, existen 3 tratamientos quirúrgicos que se utilizan en el tratamiento del linfedema; ALV, transferencia de linfonodos vascularizados (TLNV) y liposucción (LS). Basado en la estadificación de la linfografía ICG (estadio DB), se seleccionan tratamientos apropiados para obtener resultados óptimos.
FIGURE 1
Evaluación del flujo linfático usando linfografía ICG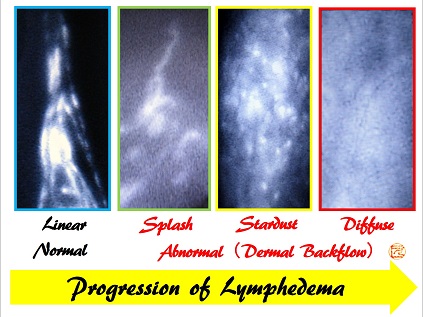 Con la progresión del linfedema, los hallazgos en la linfografía ICG cambian desde lineal, splash, stardust y finalmente, patrón difuso.
Yamamoto T, et al.
Characteristic indocyanine green lymphography findings in lower extremity lymphedema: the generation of a novel lymphedema severity staging system using dermal backflow patterns.
Plast Reconstr Surg. 2011;127(5):1979-86.
FIGURE 2
Estadificación linfática ICG y manejo del linfedema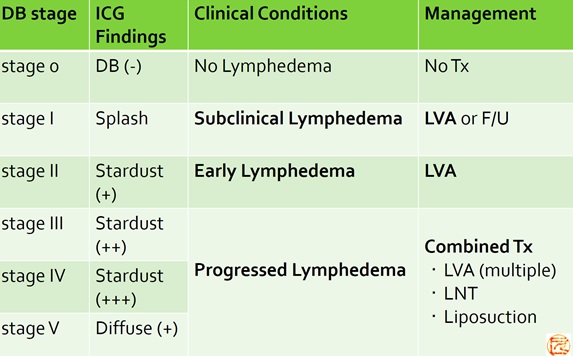 Estrategia terapéutica basada en estadificación fisiopatológica con ICG.
Yamamoto T, et al.
The earliest finding of indocyanine green (ICG) lymphography in asymptomatic limbs of lower extremity lymphedema patients secondary to cancer treatment: the modified dermal backflow (DB) stage and concept of subclinical lymphedema.
Plast Reconstr Surg. 2011;128(4):314e-21e.
Yamamoto T, et al.
Subclinical lymphedema: understanding is the clue to decision making.
Plast Reconstr Surg. 2013;132(3):472e3e.
ANASTOMOSIS LINFÁTICO-VENULARES SUPERMICROQUIRÚRGICAS (ALV)
La linfa pasa a la circulación venosa en el ángulo venoso (cuello) y el fluido se descarga como la orina a través del riñón. El linfedema es causado por la obstrucción del flujo linfático distal al ángulo venoso (antes pasar a la circulación venosa) ya sea por cirugía oncológica, etc. En la cirugía de ALV, el flujo linfático acumulado se desvía hacia la circulación venosa distal al sitio de obstrucción creando un shunt(s) linfático-venoso; en la extremidad inferior para el linfedema asociado al tratamiento del cáncer uterino, en la extremidad superior para el linfedema asociado al tratamiento del cáncer de mama, etc. A diferencia de la "anastomosis linfático-venosa clásica", los vasos linfáticos se anastomosan a pequeñas venas cercanas (vénulas) de manera de realizar una coaptación íntima-intimal por supermicrocirugía; el vaso linfático y la vena receptora son aproximadamente de 0,5 mm, y se utiliza una aguja de 50-65 micras (nylon 11-0 o 12-0) para la anastomosis supermicroquirúrgica. Dado que el endotelio (íntima) cubre en el sitio de anastomosis, la trombosis se puede prevenir incluso cuando ocurre reflujo venoso; por otro lado, la trombosis de la anastomosis linfático-venosa clásica es inevitable ya que tejido diferente al de la íntima se expone en el lumen del vaso.
ALV es el tratamiento quirúrgico menos invasivo para el linfedema; se
puede realizar a través de incisiones cutáneas de aproximadamente 2 cm y bajo anestesia local. La ALV trata la fisiopatología del linfedema mediante la descompresión de la linfa con bypass linfático-venoso. Las ALV pueden ser eficaces para el linfedema refractario a la compresión, reduciendo los episodios de celulitis, la necesidad de terapia compresiva e incluso pudiendo curar el linfedema (reducción del volumen sin necesidad de terapia compresiva de mantenimiento; solo posible para el linfedema subclínico y el inicial). Dado que el número de anastomosis está asociado positivamente con la reducción de volumen, los cirujanos intentan realizar tantas ALV como sea posible dentro de un quirúrgico de operación establecido (generalmente alrededor de 2 horas, máximo 4 horas). Si bien las ALV pueden ser eficaces para el linfedema progresivo refractario a tratamientos conservadores, no se pueden asegurar buenos resultados para todos los pacientes; esto se debe a que los vasos linfáticos se van esclerosando con la progresión del linfedema lo que resulta en un bypass ineficaz.
Se requieren técnicas supermicroquirúrgicas altamente sofisticadas y suficiente experiencia para realizar las ALV. En el Departamento de Cirugía Plástica y Reconstructiva de NCGM, un supermicrocirujano altamente experimentado, que ha realizado más de 6000 anastomosis de vasos linfáticos (ver información personal abajo) opera ALV con asistentes (médicos japoneses e internacionales).
La linfa acumulada fluye a una vena receptora, haciendo la vena translúcida.
CONSULTA
Los
pacientes con linfedema diagnosticado mediante linfocintigrafía, SPECT/CT, linfografía RM o linfografía ICG pueden ser tratados en NCGM. Especialmente en
el caso de los pacientes con linfedema primario, se deben descartar otras enfermedades edematosas mediante evaluaciones exhaustivas. Dado que la ALV sólo
funciona con compresión postoperatoria, la ALV está indicada sólo para los pacientes que cumplen estrictamente la terapia compresiva (antes y después de
la cirugía). Los pacientes con comorbilidades sistémicas o antecedentes de alergias no pueden someterse a cirugía ALV en NCGM. Para obtener información
más detallada, póngase en contacto con el Centro Internacional de Atención Médica (support@hosp.ncgm.go.jp).
Publication
Yamamoto T, et al.
Lambda-shaped anastomosis with intravascular stenting method for safe and effective lymphaticovenular anastomosis.
Plast Reconstr Surg. 2011;127(5):1987-92.
Yamamoto T, et al.
The earliest finding of indocyanine green (ICG) lymphography in asymptomatic limbs of lower extremity lymphedema patients secondary to cancer treatment: the modified dermal backflow (DB) stage and concept of subclinical lymphedema.
Plast Reconstr Surg. 2011;128(4):314e-21e.
Yamamoto T, et al.
Upper Extremity Lymphedema (UEL) Index: A Simple Method for Severity Evaluation of Upper Extremity Lymphedema.
Ann Plast Surg. 2011 Jul 5 [Epub ahead of print]
Yamamoto T, et al.
Indocyanine green (ICG)-enhanced lymphography for upper extremity lymphedema: a novel severity staging system using dermal backflow (DB) patterns.
Plast Reconstr Surg. 2011 Jun 15. [Epub ahead of print]
Yamamoto T, et al.
Indocyanine green (ICG)-enhanced lymphography for evaluation of facial lymphoedema.
J Plast Reconstr Aesthet Surg. 2011 Jun 15 [Epub ahead of print]
Yamamoto T, et al.
Characteristic indocyanine green lymphography findings in lower extremity lymphedema: the generation of a novel lymphedema severity staging system using dermal backflow patterns.
Plast Reconstr Surg. 2011;127(5):1979-86.
Yamamoto T, et al.
Lower extremity lymphedema index: a simple method for severity evaluation of lower extremity lymphedema.
Ann Plast Surg. 2011 Mar 14 [Epub ahead of print].
Yamamoto T, et al.
Simultaneous multi-site lymphaticovenular anastomoses for primary lower extremity and genital lymphoedema complicated with severe lymphorrhea.
J Prast Reconstr Aesthet Surg. 2011;64(6):812-5. Epub2010 Nov 17.
Yamamoto T, et al.
LEC score: A judgment tool for indication of indocyanine green lymphography.
Ann Plast Surg. 2013;70(2):227-30.
Yamamoto T, et al.
Split intravascular stents for side-to-end lymphaticovenular anastomosis.
Ann Plast Surg. 2013;71(5):538-40.
Yamamoto T, et al.
Indocyanine green velocity: Lymph transportation capacity deterioration with progression of lymphedema.
Ann Plast Surg. 2013;71(5):591-4.
Yamamoto T, et al.
Minimally invasive lymphatic supermicrosurgery (MILS): indocyanine green-guided simultaneous multi-site lymphaticovenular anastomoses via millimeter skin incisions.
Ann Plast Surg. 2012 Dec 13 [Epub ahead of print].
Yamamoto T, et al.
A modified side-to-end lymphaticovenular anastomosis.
Microsurgery. 2013;33(2):130-3.
Yamamoto T, et al.
Sequential anastomosis for lymphatic supermicrosurgery: multiple lymphaticovenular anastomoses on one venule.
Ann Plast Surg. 2012 Dec 13 [Epub ahead of print].
Yamamoto T, et al.
Dynamic indocyanine green lymphography for breast cancer-related arm lymphedema.
Ann Plast Surg. (in press).
Yamamoto T, et al.
Side-to-end lymphaticovenular anastomosis through temporary lymphatic expansion.
PLoS ONE. 2013;8(3):e59523. Epub 2013 Mar 25.
Yamamoto T, et al.
Indocyanine green lymphography for evaluation of genital lymphedema in secondary lower extremity lymphedema patients.
J Vasc Surg Venous Lymphat Dis. 2013 July 18 [Epub ahead of print].
Yamamoto T, et al.
Near-infrared illumination system-integrated microscope for supermicrosurgical lymphaticovenular anastomosis.
Microsurgery. 2013 Jul 9 [Epub ahead of print].
Yamamoto T, et al.
Subclinical lymphedema: understanding is the clue to decision making.
Plast Reconstr Surg. 2013;132(3):472e3e.
Yamamoto T, et al.
Modified lambda-shaped lymphaticovenular anastomosis with supermicrosurgical lymphoplasty technique for a cancer-related lymphedema patient.
Microsurgery. 2013 Sep 13 [Epub ahead of print].
Yamamoto T, et al.
Colourful indocyanine green lymphography.
J Plast Reconstr Aesthet Surg. 2013 Oct 1 [Epub ahead of print].
Yamamoto T, et al.
Neo-valvuloplasty for lympahtic supermicrosurgery.
J Plast Reconstr Aesthet Surg. 2014;67(4):587-8.
Yamamoto T, et al.
Ladder-shaped lymphaticovenular anastomosis using multiple side-to-side lymphatic anastomoses for a leg lymphedema patient.
Microsurgery. 2014;34(5):404-8.
Yamamoto T, et al.
Upward retraction for lymphaticovenular anastomosis in the deep fat layer.
Microsurgery. 2014;34(7):586-7.
Yamamoto T, et al.
Technical simplification of the supermicrosurgical side-to-end lymphaticovenular anastomosis using the parachute technique.
Microsurgery. 2015 Feb;35(2):129-34.
Yamamoto T, et al.
Splash, stardust, or diffuse pattern: differentiation of dermal backflow pattern is important in indocyanine green lymphography.
Plast Reconstr Surg. 2014;133(6):e887-8.
Yamamoto T, et al.
Navigation lymphatic supermicrosurgery for iatrogenic lymphorrhea: supermicrosurgical lymphaticolymphatic anastomosis and lymphaticovenular anastomosis under indocyanine green lymphography navigation.
J Plast Reconstr Aesthet Surg. 2014;67(11):1573-9.
Yamamoto T, et al.
Triple supermicrosurgical side-to-side lymphaticolymphatic anastomoses on a lymphatic vessel end-to-end anastomosed to a vein.
Microsurgery. 2014 Jul 15 [epub ahead of print]
Yamamoto T, et al.
Mono-canalization of adhered lymphatic vessels for lymphatic supermicrosurgery.
J Plast Reconstr Aesthet Surg. 2014;67(11):e291-2. 2014 Jul 31 [epub ahead of print]
Yamamoto T, et al.
Lymph preserving lipectomy under indocyanine green lymphography navigation.
J Plast Reconstr Aesthet Surg. 2015;68(1):136-7.
Yamamoto T, et al.
Supermicrosugical anastomosis of superficial lymphatic vessel to deep lymphatic vessel for a patient with cellulitis-induced chronic localized leg lymphedema.
Microsurgery. 2015;35(1):68-71. 2014 Sep 8 [epub ahead of print]
Yamamoto T, et al.
Establishment of supermicrosurgical lymphaticovenular anastomosis model in rat.
Microsurgery. 2014 Oct 3 [Epub ahead of print]
Yamamoto T, et al.
Multiple-In-One concept for lymphatic supermicrosurgery.
Microsurgery. 2014 Oct 28 [epub ahead of print]
Yamamoto T, et al.
Efferent lymphatic vessel anastomosis (ELVA): supermicrosurgical efferent lymphatic vessel-to-venous anastomosis for the prophylactic treatment of subclinical lymphedema.
Ann Plast Surg. 2014 Nov 1 [Epub ahead of print]
Yamamoto T, et al.
Indocyanine green lymphography findings in primary leg lymphedema.
Eur J Vasc Endovasc Surg. 2015;49:95-102. 2014 Dec 3 [Epub ahead of print]
Yamamoto T, et al.
Supermicrosurgical deep lymphatic vessel-to-venous anastomosis for a breast cancer-related arm lymphedema with severe sclerosis of superficial lymphatic vessels.
Microsurgery. 2015 Jan 17 [Epub ahead of print]
Yamamoto T, et al.
Relationship between lymphedema and arteriosclerosis: higher cardio-ankle vascular index in lymphedematous limbs.
Ann Plast Surg. 2015 Feb 18 [Epub ahead of print]
Yamamoto T, et al.
Hands-free vein visualizer for selection of recipient vein with an intact valve in lymphatic supermicrosurgery.
J Plast Reconstr Aesthet Surg. 2015 Feb 14 [Epub ahead of print]
Yamamoto T, et al.
A method of continuous indirect aspiration for field clearance in lymphatic supermicrosurgery.
Microsurgery. 2015 May 19 [Epub ahead of print]
Yamamoto T, et al.
Lymphatic vessel grafting for prevention of venous reflux into a sclerotic lymphatic vessel in supermicrosurgical lymphaticovenular anastomosis.
J Plast Reconstr Aesthet Surg. 2016 Jan 7 [epub ahead of print]
Yamamoto T, et al.
Microsurgical venous-branch-plasty for approximating diameter and vessels' position in lymphatic supermicrosurgery.
J Plast Reconstr Aesthet Surg. 2016 Feb 17 [epub ahead of print]
Yamamoto T, et al.
Quadruple-component superficial circumflex iliac artery perforator (SCIP) flap: a chimeric SCIP flap for complex ankle reconstruction of an exposed artificial joint after total ankle arthroplasty.
J Plast Reconstr Aesthet Surg. 2016 Jun 23 [epub ahead of print]
Yamamoto T, et al.
Complete lymph flow reconstruction: a free vascularized lymph node true perforator flap transfer with efferent lymphaticolymphatic anastomosis.
J Plast Reconstr Aesthet Surg. 2016 Jul 2 [epub ahead of print]
Yamamoto T, et al.
Fusion lymphoplasty for diameter approximation in lymphatic supermicrosurgery using two lymphatic vessels for a larger recipient vein.
J Plast Reconstr Aesthet Surg. 2016 Jul 9 [epub ahead of print]
Yamamoto T, et al.
Time to re-consider a gold standard of lymph flow imaging: importance of reliability to detect abnormal lymphodynamics in lymphedema screening after cancer treatments.
Plast Reconstr Surg. 2016 Dec 9 [epub head of print]
Yamamoto T, et al.
Application of a multi-directional transformable retractor for lymphatic supermicrosurgery using SEKI method.
Microsurgery. 2016 Dec 23 [epub ahead of print]
Yamamoto T, et al.
Indocyanine green lymphography for lymphedema screening following breast cancer treatment.
Plast Reconstr Surg 2017 Feb 14 [Epub ahead of print]
Yamamoto T, et al.
Factors associated with lower extremity dysmorphia caused by lower extremity lymphedema.
Eur J Vasc Endovasc Surg. 2017 Apr 6 [epub head of print]
Yamamoto T, et al.
Lymphatic vessel diameter in female pelvic cancer-related lower extremity lymphedematous limbs.
J Surg Oncol 2018 Jan 22 [epub ahead of print]
Yamamoto T, et al.
Possible optimal donor site for multiple lymph node transfers.
J Am Coll Surg 2018 Feb;226(2):202-3.
Yamamoto T, et al.
Lymph flow restoration after tissue replantation and transfer: importance of lymph axiality and possiblity of lymph flow reconstruction using free flap transfer without lymph node or supermicrosurgical lymphatic anastomosis.
Plast Reconstr Surg 2018 Jun 22 [epub ahead of print]
Yamamoto T, et al.
Optimal sites for supermicrosurgical lymphaticovenular anastomosis: an analysis of lymphatic vessel detection rates on 840 surgical fields in lower extremity lymphedema.
Plast Reconstr Surg. 2018 Sep 4 [epub ahead of print]
Yamamoto T, et al.
Targeting reflux-free veins with a vein visualizer to identify the ideal recipient vein preoperatively for optimal lymphaticovenous anastomosis in treating lymphedema.
Plast Reconstr Surg. 2018 Nov;142(5):804e-806e.
Yamamoto T.
Onco-Reconstructive Supermicrosurgery.
Eur J Surg Oncol. 2019 Jan 9 [epub ahead of print]
Yamamoto T.
Impact of lower extremity dysmorphia on lymphedema patients' quality of life.
Plast Reconstr Surg. 2019 Feb 1 [epub ahead of print]
Tsukuura R, Sakai H, Fuse Y, Yamamoto T.
Novel hands-free near-infrared fluorescence navigation and simultaneous combined imaging for elevation of vascularized lymph node flap.
J Surg Oncol 2018 Sep;118(3):588-89.
Fuse Y, Yamamoto T.
Diamond-shaped anastomosis for supermicrosurgical side-to-side lymphaticovenular anastomosis.
J Plast Reconstr Aesthet Surg 2015 Sep 5 [epub ahead of print]
Fuse Y, Yamamoto T.
Half notching method for supermicrosurgical lambda-shaped lymphaticovenular anastomsois.
J Plast Reconstr Aesthet Surg 2015 Sep 5 [epub ahead of print]
Fuse Y, Yamamoto T, Saito T, Ishiura R, Iida T.
Near-infrared fluorescent swallow test for detection of the alimentary tract anastomotic leakage.
J Plast Reconstr Aesthet Surg 2015 Oct 9 [epub ahead of print]
Fuse Y, Yoshimatsu H, Yamamoto T.
Lateral approach to the deep branch o the superficial circumflex iliac artery for harvesting a SCIP flap.
Microsurgery Feb 23 [epub ahead of print]
Fuse Y, Yamamoto T.
Intraoperative distal compression in supermicrosurgical lymphaticovenous anastomosis for lymphedema.
J Surg Oncol 2018 Jun 7 [epub ahead of print]
Sakai H, Yamamoto T, Yamamoto N, Fuse Y.
Modified fusion lymphoplasty for approximation of diameter and distance between two lymphatic vessels and a larger recipient vein.
Microsugery 2017 Sep 19 [epub ahead of print]
Sakai H, Yamamoto T, Fuse Y.
Lympahtic vessel diameter and lymphosclerosis: two different characteristics.
Lymphat Res Biol. 2018 Jun;16(3):317
Yamamoto T.
Congenital Vascular Malformation- Comprehensive Review on Current Management. Part V. Contemporary Diagnosis: Imaging Modalities. Chapter 25. Indocyanine Green (ICG) Lymphography.
Springer
Yamamoto T.
ICG Fluorescence imaging and navigation surgery. Chapter 44. Comprehensive Lymphedema Evaluation using Dynamic ICG Lymphography.
Springer